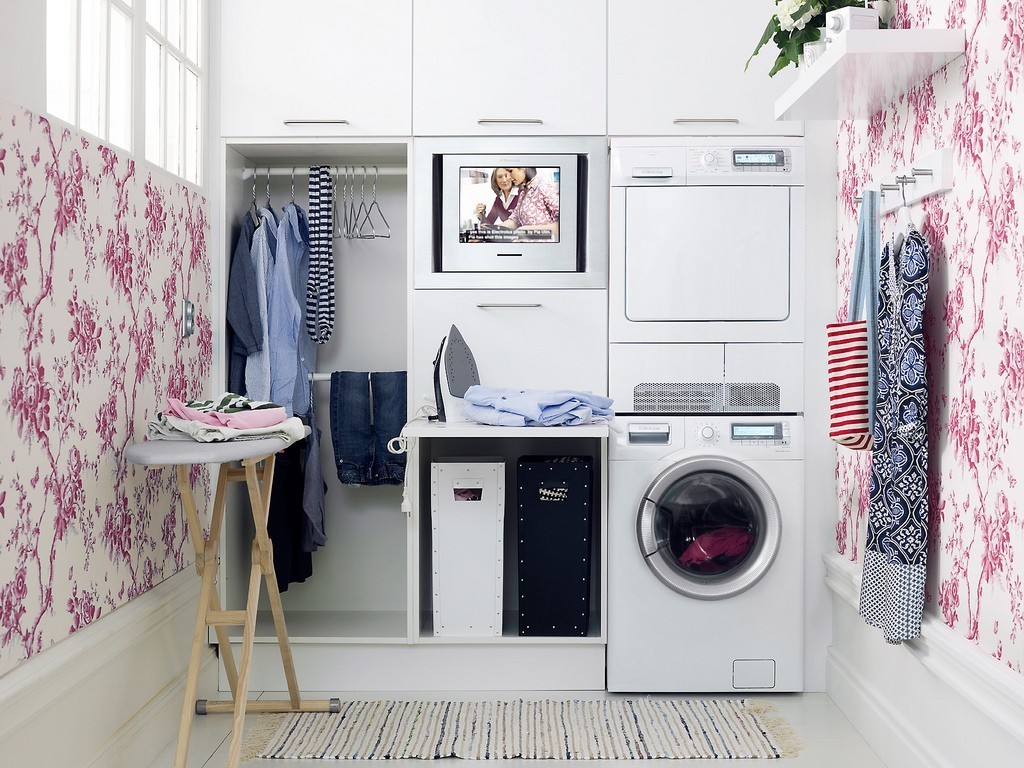 Someday I will have a laundry room as awesome as the one above. But until then, I'll be grateful for the closet with a stackable washer-dryer I have.
Weekly and even monthly cleaning plans don't usually include the laundry room. If you're lucky enough to have a laundry room, even a small one, or a closet with a stackable, take good care of it!
The Washer
:
Run white vinegar through the washer. This will sanitize the inside and clear away soap scum.
The Dryer
:
Empty the lint trap. Wipe off fuzz with a used fabric-softener sheet.
Vacuum the inside of your lint trap area.
Wipe the interior walls of the dryer. Use a cloth dampened with dishwashing liquid and warm water. Scrub any linty residue around the trap opening with an old toothbrush, if necessary.
All Appliances
: Wipe down the outside of each appliance. Clean the fronts, sides, and tops using Homemade Natural Cleaning Products.
The Floor:
Run a dust mop underneath the washer and the dryer, if it fits. Airborne lint can get kicked underneath the appliances. Then wipe with cleaning solution.
The Dryer Hose
:
Run an extendable duster around the inside of the dryer hose, if you have access to it. Or vacuum it with a crevice attachment. Either method will clear away the lint that accumulates on the walls of the hose.
The Backs of the Washer and Dryer
:
Clean behind the appliances. If you have a stackable, I would not attempt to move it. On a low setting, with a brush attachment, vacuum the backs of the washing machine and the dryer and the flooring underneath. To reach behind the units, move the machines using appliance wheels or casters (available at hardware stores). Be careful not to stretch the dryer hose. If the hose looks too short, disconnect it first.
The Vents:
Using a brush attachment, vacuum the vents on a high setting. Wipe the vents' grates with a damp cloth.